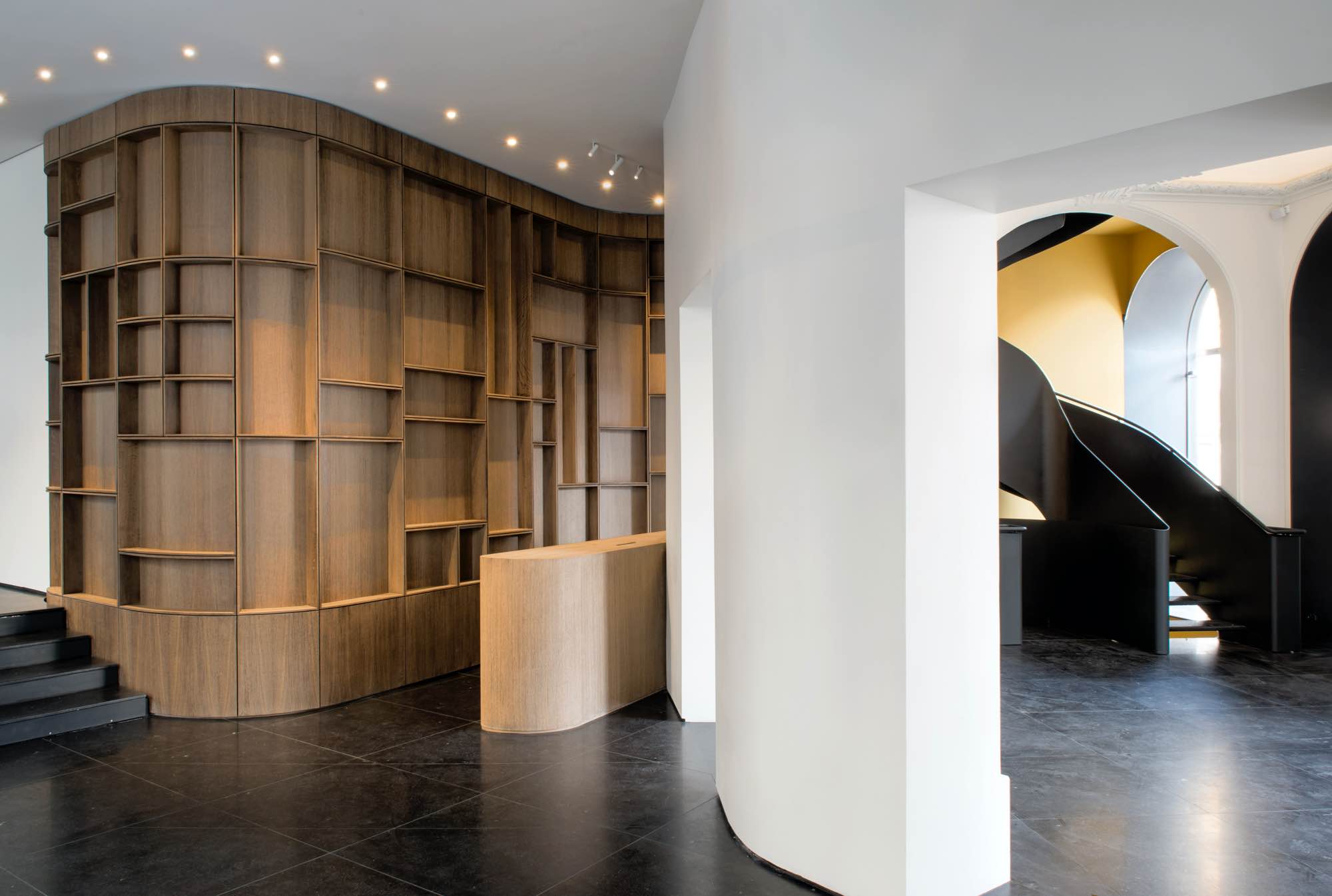 As a complimentary to the large collection titled 'NATIV', Navot has designed the historical three levels showroom of Roche Bobois situated in 207 Boulevard Saint Germain.
A spacious experience with a new and intuitive flow. The classical Parisian qualities of the space have been conserved in a spirit of luminous and gentle futurism, with a welcoming presence of natural materials.
The new interior design includes an optimised flow with new expanded accesses, a full renovation of the flooring, platforms and lighting system, two new monumental staircases, a welcome desk and a study-case library of wooden forms.
The numerous Haussmannian stone arches that surrounds the showroom have been laced with thin black metal lining creating a contrasted connection between the outside Lutecia stone and the indoor bright white exhibition space. On each of these meticulous black arches, a special railing system is incorporated with high-end lighting system.
The two sculpted staircases located on both extremities of the ground floor are drawn especially for the showroom, leading to the first and underground levels.
The free-from, independent metal staircase next to the entrance is an industrial, whiplash-structure made in iron and fossil Granit stepping stones. The engineered bespoke structure is turning and curving through the three levels of the showroom. On its background - a hand-made mineral wall relief made with natural ochre pigment. On the other side of the space, a 'milky', organic and generous staircase nested within the wide curve at the deep end, creating a natural flow towards the first floor of the showroom.
This staircase is a result of high-standard plaster craftsmanship using computer generated molds and handmade expertise.
The first floor has been kept similar to its original nature as a classical Parisian apartment with traditional herring-bone parquet and moldings, while clearing as many walls and corridors in order to achieve a more open and pleasant space that can accommodated the various furniture in an elegant residential atmosphere.
Roche Bobois Rive Gauche Flag-store
207 boulevard Saint Germain