/ RISTORANTE NATIONAL / HOTEL NATIONAL DES ARTS ET MÉTIERS, PARIS
— 2017
BACK TO PROJECTS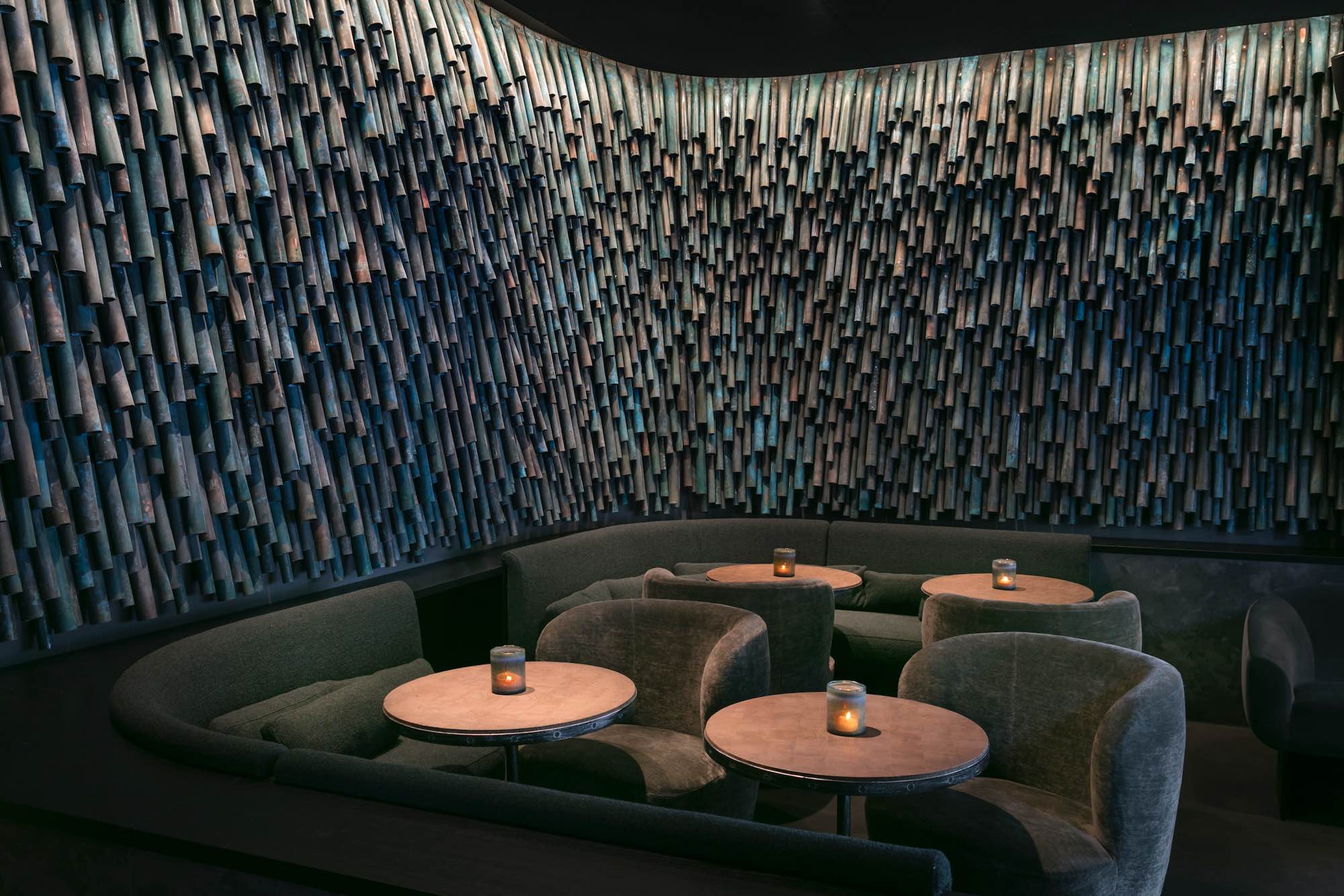 Ristorante National and cocktail bar 'Herbarium' are a part of Hotel National des Arts et Métiers experience. A project achieved with the collaboration of about 30 different artisans around Paris.
The large Italian restaurent, the Cicchetteria and speak easy salon are joined under the skylight of the hotel's courtyard while connecting rue saint Martin and rue Reaumur. The hotel has brought together the expertise of three luminaries in the Parisian restaurant scene: Julien Cohen and the duo of Jean-Pierre Lopes /Thomas Delafon. The combination of all three transforms the restaurant into a veritable culinary destination in its own right. The exclusive double central skylight opens silently towards the sky in the 'arts et métiers' spirit thanks to high-end engineering (DVVD) which is unique in paris. An acoustic hand painted canvas, stretches across the restaurant made with Japanese ink on natural linen (rue Hérold). An original work by artist Gael Davrinche especially commissioned for the space.
The Herbarium cocktail bar materials are either brut or burnt. Charred wood, leather bar top and wild mineral coating realised with fougère stamps (by Signature Mural) The bespoke cocktail menu, composed by head barman Oscar Quargliarini with the sensory precision of a perfumer.
Ristorante National / Hotel National des Arts et Métiers
243 rue Saint Martin 75003, PARIS Interior architecture and design: Raphael Navot
Art Direction: Raphael Navot
Architecture and Engineering: DVVD
The conception of Ristorante National and Herbarium was made in close creative exchange with Marie-France and Stephanie Cohen (Démodé).
Visual identity: Bepoles
Lighting Consultant: Florian Douet
Vegetation: Kali Vermes
Heartfelt THANK YOU to
Samy Marciano
Julien Cohen
Marie-France Cohen & Stephanie Cohen (Démodé)
Christophe Bearzi & Jean-Baptiste Dussol (AGB)
Laura PICIOCCHI DVVD
Gael Davrinche et Sarah Jerome
Rue Hérold
Oscar Ono
Signature Mural
Pierre Frey
Final site photos by Jérôme Galland