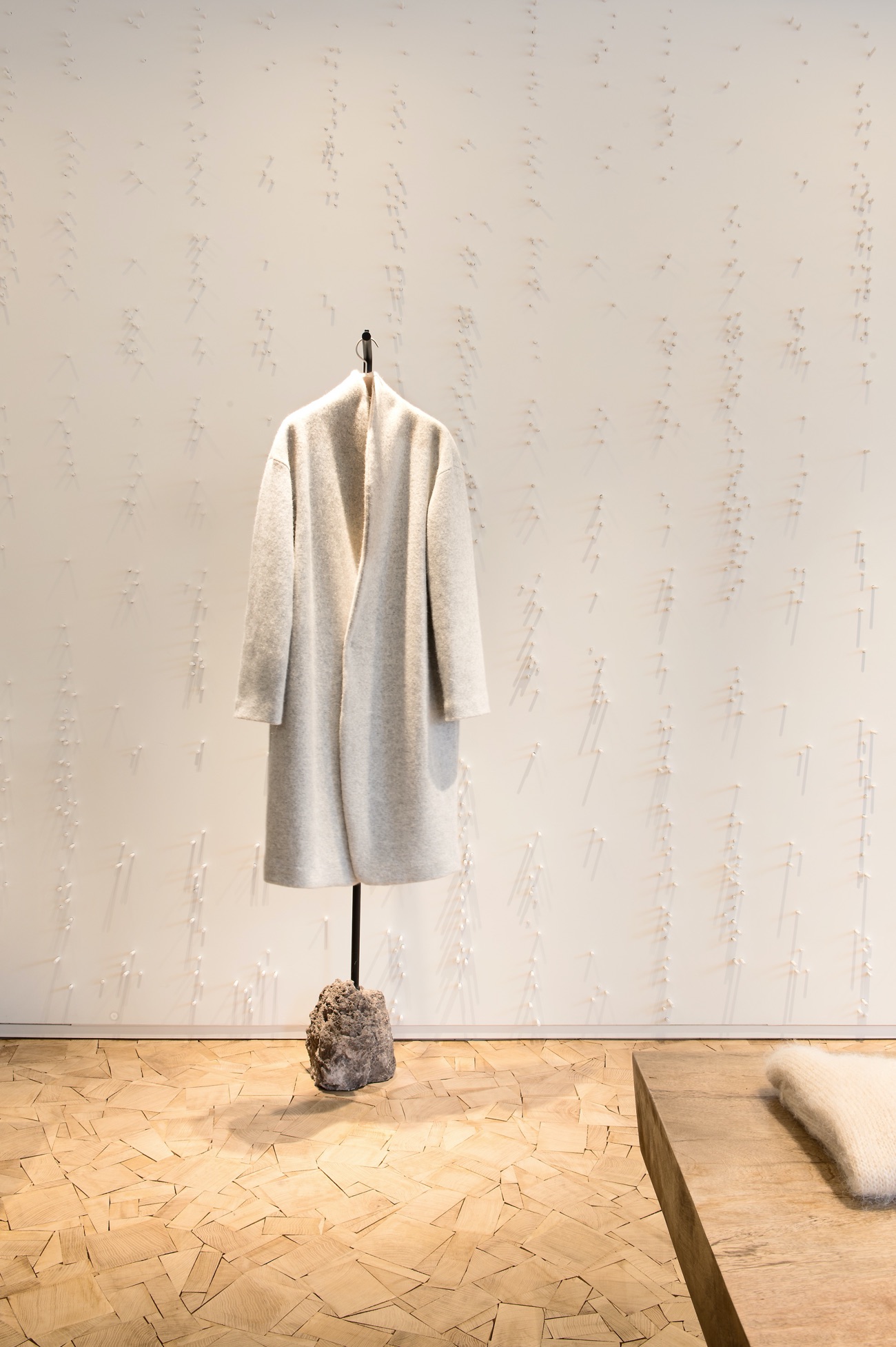 Pas de Calais is a young Japanese brand created by Yukari Suda in 1998 and named in homage to the famous Calais lace, which is renowned for being the finest and most delicate in the world. Inspired by the rich heritage of Northern France, its outdoor lifestyle and magnificent landscapes, Pas de Calais is the reflection of a pure essence tinged with nostalgia and combined with modern, relaxed design. The brand develops its own textiles, elevating cotton, linen and silk by using a combination of traditional dyeing methods and state-of-the-art techniques.
Following a first New York store, the brand's traveling spirit has settled in a first Parisian boutique located at 15 rue de Poitou in the 3rd arrondissement. Conceived as an echo of the Pas de Calais DNA, the 75 square-meter (807sq.ft.) space is informed by arte povera and the simplicity and authenticity of natural materials within a mineral setting. The space celebrates the natural character of fissured wood, corroded metal and limestone that is as powdery as chalk. Each material is worked naturally according to authentic artisanal methods, creating an ode to nature that has been caressed by time.
The main table is main with Dracontomelon dao also known as New Guinea walnut/ Pacific walnut is a tropical canopy tree distinguished mostly by its height (reaching up to about 45 metres) for its greyish-brown trunk which is branchless up to about 20 m It is native to the riverine and limestone forests. The seed surface typically displays an intricate pattern with an approximate five-fold symmetry, and its five rhombic protrusions are reminiscent of primitive Buddha images. It is revered and called "Five Buddhas" in the North-East of Thailand and in Laos.
The furniture is a collection of abstract shapes that underscore the imperfect precision of Pas de Calais clothing. The principal tableau is anchored by untreated exotic wood posed on two blocks of washed lava stones. The floating dao piece finds its counterpoint in wooden flooring in an organic patchwork of hand-cut blocks.
All elements were selected, developed and produced in collaboration with local artisans whose work blends traditional know-how with new technologies and special attention to the to the inherent nature of each piece. In a savvy geometrical triangulation, the dominant colors of sand, chalk white, dove gray and charcoal resonate with the colors of clothes displayed on metal threads. Together, the ensemble creates a singular and delicate whole.
The main welcome desk is made with Lava rock selected and sliced at Clermont-Ferrand Volcanic quarry The city is famous for the chain of volcanoes, the Chaîne des Puys. The floor of the entire store is an organic patchwork of different end-grain wooden blocks (bois debut), hand cut and positioned in a free flow. On the walls, charcoal black alternates with chalk white in an irregular pattern studded with wooden anchor pins. All metal work and lighting development were custom made to this project.
Pas de Calais
Concept and Interior Design: Raphael Navot
Collaborators
Executive Architect and Worksite Manager: Virginie Renaut
Realisation: Vedes
Photos by Adrien Dirand, Hélène Hilaire